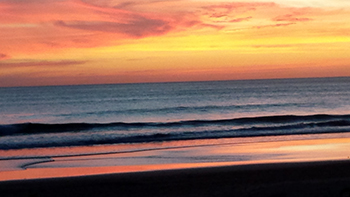 Costa Rica is considered to possess the highest density of biodiversity of any country worldwide (source: Wikipedia). This is your perfect vacation to reconnect with Mother Nature and reset your internal clock.
With minimal noise and light pollution, the most amazing sunsets on the Pacific Ocean, and a vast variety of Eco-Tours that include:
• Hot springs – Active volcanoes
• Some of the world's best surfing
• Deep sea fishing – Scuba
• Snorkeling – Dolphin tours
• Ridley turtle hatching
• Exotic birds and flowers
• Sloths, iguana's and much, much more.

Your tropical vacation starts in the heart of the Guanacaste in the hidden little town of Marbella. Endless exotic black sand beaches await you, endless sun and surf sprinkled in with all natural restaurants and tiki bars serving the freshest fish and fruits you've ever had! If you've never eaten a banana or mango or pineapple freshly picked, you've never experienced a real banana, mango or pineapple!
...Welcome To Marbella, Costa Rica And The Beautiful, Tranquil, Sanctuary Condominiums and Retreat.
Do as much or as little as you desire so you can achieve the vacation of your dreams. Satisfy your need to rejuvenate and encounter amazing nature and wildlife first hand and up close. Simply allow the stress and strains of everyday life to fall away freeing you to bask in the calm, serene, and refreshing surroundings of The Sanctuary Condominiums and Retreat. Savor the local culture and delicious cuisine. Enjoy the first hand experience with the Costa Rican (Tico) people along with their warm and friendly greetings. Take a day trip and enjoy the splendor that Costa Rica has to offer with the vast variety of natural wonders that abound throughout the country. Hire a local fisherman to take you ocean fishing in a panga boat where you can catch tuna, mackerel, or many other varieties of the local seafood. Costa Rica sport fishing offers the best blue water fishing anywhere. The fishing for Marlin, Sailfish, Dorado, Tuna, and Wahoo is unparalleled anywhere in the world making Costa Rica the number one choice for sport fishing!
Surrounded By The Incredible Beauty Of Costa Rica's Natural Landscape
At the Sanctuary we embrace peace, solitude, relaxation and renewal. We offer Reiki, Energy Healing and Massage Therapy on site. Along with our 2 beautiful pools and the most breath taking sunsets, you're sure to find your inner peace.

The Sanctuary is the ultimate destination for the writer, producer, business executive, entrepreneur, health care and hospitality worker or anyone seeking peace, quiet and solitude. You truly will lose all of life's burdens and stresses as you relax and re-focus leaving you rejuvenated and ready to return to reality.
Weddings, business retreats, honeymoons, deep sea fishing vacations, spa packages and holistic seminars are all part of the Sanctuary experience. Contact us today so you can finally have that vacation that you'll truly remember for a lifetime.
Our Sanctuary Condominiums and Retreat is nestled amongst native flora and fauna. We are situated a 1/4 mile from Playa Azul (Blue Beach) on the majestic Pacific Ocean, giving many of our units spectacular ocean views. Beautifully landscaped grounds, abundant with native flowers, plants and fruit trees attract hundreds of Mariposa (Butterflies), Hummingbirds, Dragonflies, Honey Bees and more. Fireflies are frequent during the warm nights here. As we grow, so too will our grounds with new indigenous cactus and flower gardens. Nature walks scheduled to be open in 2017.

5 M Sur DE Marbella, GU, Santa Cruz, Costa Rica
5 M Sur DE Marbella, GU,
Santa Cruz,
Costa Rica